Cisco Meraki Networks Blog

Welcome to the Cisco Meraki Networks Blog.
Selling into K-12 Accounts Cisco Meraki - FY16
Cisco Meraki: who we are and what we do
Complete cloud-managed networking solution
Wireless, switching, security, WAN optimization, MDM Integrated hardware, software, and cloud services
Leader in cloud-managed networking
Among Ciscos fastest-growing portfolios Over 100% annual growth Tens of millions of devices connected worldwide
Recognized for innovation
Gartner Magic Quadrant InfoWorld Technology of the Year CRN Coolest Technologies
Trusted in thousands of K-12 campuses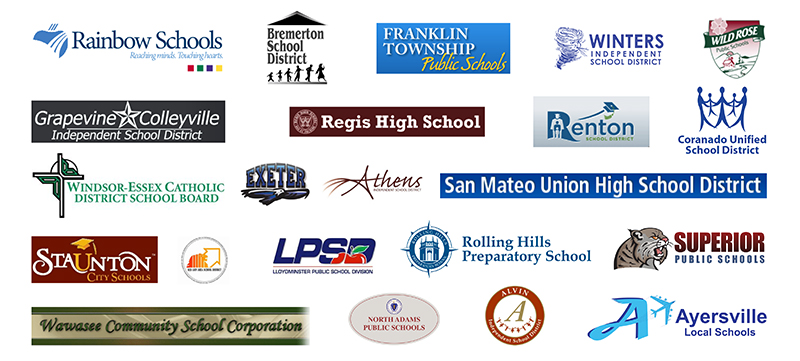 Why choose Cisco Meraki for the K-12 environment
Intuitive centralized management
No training, no complex command line
Seamlessly control devices across sites
Packet capture, Live Tools and diagnostics
Flexibility for distributed schools & campuses
Single pane of glass visibility into all devices
Zero-touch site provisioning
Seamless updates from the cloud
Industry-leading visibility, control, & security
Fingerprints users, applications, and devices
Network-wide monitoring and alerts
Full stack solution: APs, switches, Security, MDM
CIPA-compliant content, security filtering
Intuitive centralized management
Centralized Network Management

Single pane of glass device, user, and application visibility
Self-provisioning devices automatically download configurations from cloud
Identity-based filtering rules and application bandwidth management
Auto VPN connects remote sites securely, without on-site IT intervention
In-depth monitoring capabilites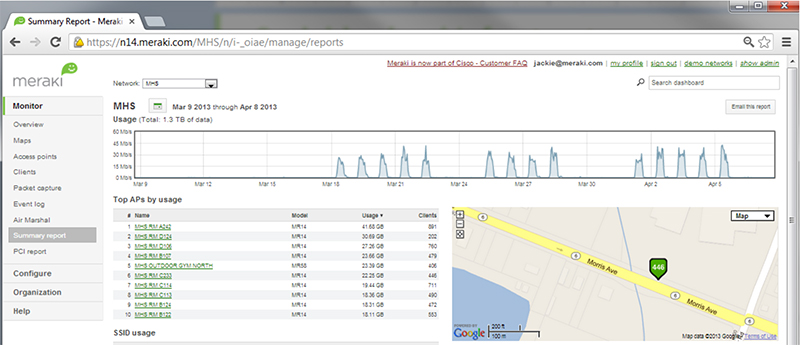 Granular Reporting
Who is using the network?
What are they using the network for?
Devices, applications, websites, and more
Ease of Use
No training required for staff
Single pane-of-glass visibility across schools/networks
Alerting features
Integrated with Google Maps
Designed for distributed schools and campuses
Large deployment ready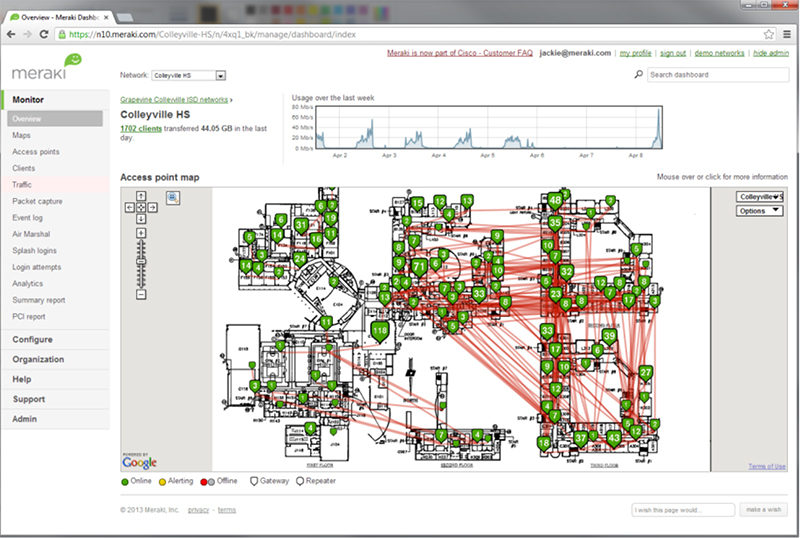 Flexible for any location
Deploy as many devices as you need
Plug and play devices for quick deployment
Eliminates need for hardware controller
Enables scalable mobile device deployments
One touch provisioning
Self-healing wireless mesh
Extend coverage seamlessly to hard to wire areas
Stadiums, remote buildings, etc.
Improve overall network reliability
Reliability for high number of devices
Network Usage
Airtime fairness for equal client bandwidth distribution
Seamless and fast roaming throughout wireless environment
High performance Access Points
Channel Saturation
Auto RF optimization to adapt to challenging conditions
Continuous monitoring to maximize network-wide performance
Quality of Service
Simple, 2 mouse click implementation
Ensure flawless multimedia streaming
Flexible, deep packet inspection for consistent traffic shaping

Industry-leading visibility, control, & security
Rich, integrated reporting for K-12

Deep insight into network usage:

Identify applications, users, and devices (iPhone, Android, iPads, etc.)
Application traffic statistics, classify encrypted and P2P apps (Skype, BitTorrent, etc.)

Real-time search and historical reporting
Visibility into applications and websites visited by students and teachers
Monthly email summary reports to share with faculty and teachers
Device management & control
Policies by Device Types
Ownership models for device separation/monitoring
Rules based on VLAN tags, users, device types
Layer 7 Application Filters
Limit or block unwanted/recreational content on devices
Flexible, fine-grained changes based on identity, device, etc.
Zero configuration, integrates with NAC and device-based policy firewalls
Application Management
Deploy applications (VPP) and reclaim apps
Enforce restrictions, set security policies, monitor hardware and software vitals
Access Control
802.1X with RADIUS integration: Active Directory, LDAP, etc
Custom splash pages, NAC, LAN isolation, VLAN tagging
Numerous SSIDs for different user groups
Device-based policies: firewall/traffic shaping rules, bandwidth limits, etc.
Firewall Rules
User and content aware firewall in each access point
Block or throttle access at the application level
Wireless Intrusion Protection
Real-time detection and containment of wireless threats
Attack profile identification: rogue SSID, spoofing, packet floods
Immediate threat alerts via e-mail and SMS
Rock-soild UTM for district-wide organizations
Enterprise security & control in every MX
Stateful Layer 7 firewall
Integrated SourceFire SNORT IDS/IPS
Content filtering, Google Safe search, anti-virus/anti-phishing, YouTube for schools, built-in web caching
Group-based policies to throttle, prioritize, block apps
Easy to deploy & manage
Zero-touch site provisioning
Auto-VPN in 3 clicks
Configuration templates for multi-site management
Network-wide monitoring and alerts
Seamless updates
Securing the wired network
MS switch in K-12 environments
Lock down wired LAN access
802.1X access policies require either user or device-based authentication
Easily block all port access except to specific whitelisted devices
Reduce window of exposure
Time-based port schedules can disable ports during off-hours
Network-wide monitoring and alerts
Prevent wired hijacking
Integrated rogue DHCP server containment at no additional cost or licensing
Where is Cisco Meraki a fit for K-12?
Accounts looking for ease of management
Over-leveraged network engineers
Small IT staffs
Distributed networks with limited technical coverage
Accounts with cloud initiatives
Accounts with stated goals of moving to the cloud
Accounts that want a network that simply works without added cost and complexity
Accounts that have both on-prem and cloud mixed environments
Large campuses with heavy Cisco investment can also be a Meraki fit
Example: Large district with Cisco on-premise that has satellite buildings perfect fit for Meraki wireless and switching
Benefits of Cisco Meraki
Simplicity, ease of use
Faster deployment with fewer errors
User, device, and application-level control
Available across entire line (access points, security appliances, switches, MDM)
Integrated MDM
Complete with deep management capabilities and control, included at no cost
Feature velocity
New features released every quarter, such as analytics, reporting, automated security audits, hosted splash pages
Unified cloud management
Wireless, wired, and security under a single pane of glass
Case study: Milpitas Unified School District
California school district with 14 schools and 10,000 students
Deployed 200 Cisco Meraki Ethernet switches, cloud-managed firewall, and 800 wireless APs
Enabled 1:1 Google Chromebook deployment and BYOD initiative
Application visibility and control optimizes bandwidth across 10k+ clients
The Cisco Meraki Dashboard, the traffic shaping, and the MDM were real advantages. We can see the traffic and devices on the fly. Chin Song, Director of Technology, Milpitas Unified School District
Case study: Lee's Summit School District
Missouri K-12 school district with 35 schools, 18,000 students
Beat out incumbents Aruba, Sonicwall, and HP with a unified solution for their 1:1 initiative (Google Chromebooks)
Deployed 350 Cisco Meraki 48-Port switches, 8 cloud-managed firewalls, MDM, and 1600 Cloud Managed APs (indoor + outdoor)
Cisco Catalyst 4500-X/Nexus at the Core/Distribution
5M total opportunity, including 1.7M in Cisco Meraki
The ability to deploy policies across tablets, wireless, switching, and security from a single pane of glass was the deciding factor to purchase Cisco Meraki. Storry Seifert, Product Sales Specialist, Cisco Meraki
E-Rate Eligibility
All Cisco Meraki hardware is 100% E-Rate eligible
Most licenses 100% eligible for E-Rate funding*
Turn competitive e-Rate bids around quickly and WIN more with the help of our dedicated team
Check out our E-Rate Training deck for more information
Next Steps
Documentation:
Download the Cisco Meraki Selling into K-12 Accounts Cisco Meraki - FY16 Data Sheet (.PDF)
Contact Us